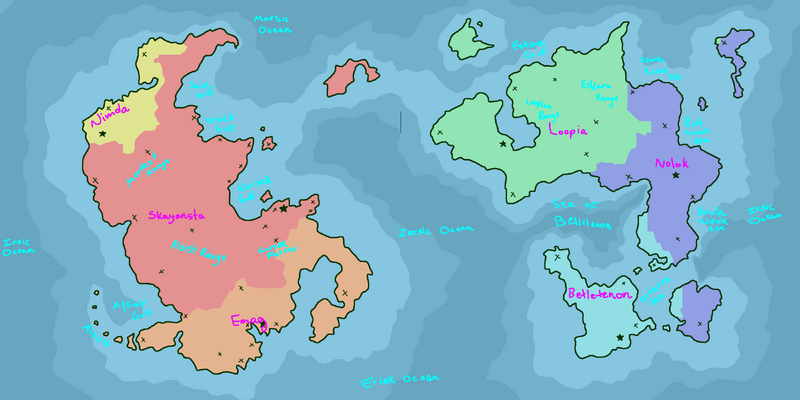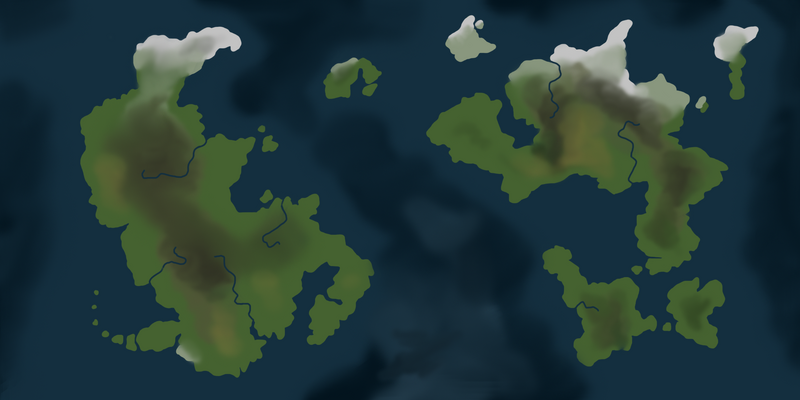 Skayansta
Edit
Location: Most land on the western continent.
Economy:
Government: The government is a republic with elected leaders. The president is the man who has the most power, but the heads of the six governmental divisions can balance out his power.
Development:
Population: 8.4 million
Climate: The climate of Skayansta is mainly tropical and subtropical. Near the equator on the east coast, where the biggest cities are found, it is hot, and also very wet. Storms are strong in this region, but not as strong as in places such as Betletenon. On the west coast, there is a hot desert. Further inland, climates are more temperate, especially on the Alsist Range and the southern areas. To the north, around the Merkest Range, it begins to be cooler and the furthest north regions are tundra.
Geography: Skayansta is geographically diverse.
Location: Southern tip of the western continent.
Economy:
Government:
Development:
Population: 4.4 million
Climate:
Geography:
Location: Northwest of the western continent.
Economy:
Government:
Development:
Population: 1.1 million
Climate:
Geography:
Location: Most of the western portion of the eastern continent.
Economy:
Government:
Development:
Population: 6.8 million
Climate:
Geography:
Betletenon
Edit
Location: Occupy all of the Betletenonite island, as well as portions of Oriarra and the eastern continent.
Economy:
Government:
Development:
Population: 4.3 million
Climate:
Geography:
Location: Eastern area of eastern continent, and eastern half of Oriarra.
Economy:
Government:
Development:
Population: 5.1 million
Climate:
Geography: